Cisco Small Business 200 Series Smart Switches

Essential Network Features, Affordable Price

---
Cisco Small Business 200 Series Smart Switches combine powerful network performance with reliability to help you build a basic business network. Affordable and easy to use, these entry-level, web-managed switches deliver the essential network features you need.
Feature-rich
Get a business-class network with such features as quality of service, security, Power over Ethernet, and IPv6 support.
Wide range of Power over Ethernet models
Choose from nine models to power up IP phones, cameras, wireless access points, and more.
Eco-friendly
Optimize power usage for efficiency without compromising performance.
Easy setup and management
Intuitive browser-based tools simplify setup and configuration.
Peace of mind
All switches come with a limited lifetime warranty and include one year of technical support and free software fixes for the term of the warranty.
Cisco 200 Series Fast Ethernet

24 Copper FE Ports
8.8 Gbps Switch Capacity
48 Copper FE Ports
13.6 Gbps Switch Capacity
48 Copper FE Ports
13.6 Gbps Switch Capacity
180W PoE
Cisco 200 Series Gigabit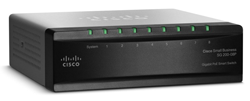 Cisco Legacy Switches
---
Cisco 200 Series Fast Ethernet

24 Copper FE Ports
8.8 Gbps Switch Capacity
100W PoE
Cisco 200 Series Gigabit

24-port 10/100/1000
2 combo mini-GBIC