Cisco Catalyst 4500E Series Switch

Deploy Unified Access with a Modular Access Switch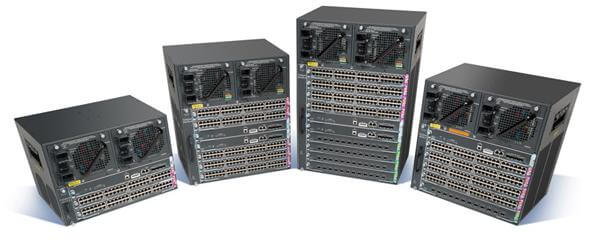 Sorry, this product is no longer available.
Switch to something new: Catalyst 9400 Series switches
Switch to something new: Boost speed and performance with our newest, most secure switches! The Catalyst 9400 Series includes our highest density modular-access, stackable enterprise network switches.
Cisco Catalyst 4500E Series Switch:
The Cisco® Catalyst® 4500 Series Switches enable Borderless Networks, providing high performance, mobile, and secure user experiences through Layer 2-4 switching investments. They enable security, mobility, application performance, video, and energy savings over an infrastructure that supports resiliency, virtualization, and automation. Cisco Catalyst 4500 Series Switches provide borderless performance, scalability, and services with reduced total cost of ownership (TCO) and superior investment protection.
The Cisco Catalyst 4500 has a centralized forwarding architecture that enables collaboration, virtualization, and operational manageability through simplified operations. With forward and backward compatibility spanning multiple generations, the new Cisco Catalyst 4500E Series provides exceptional investment protection and deployment flexibility to meet the evolving needs of organizations of all sizes. The Cisco Catalyst 4500E Series platform has 10 Gigabit Ethernet (GE) uplinks and supports Power over Ethernet Plus (PoE+) and Universal PoE (UPOE), enabling customers to future proof their network.
E-Series chassis come in four different form factors: 3-slot (4503-E), 6-slot (4506-E), 7-slot (4507R+E), and 10-slot (4510R+E). 4503-E, 4506-E, 4507R+E, and 4510R+E chassis are extremely flexible and support either 24 or 48 Gbps per line-card slot. Integrated resiliency in the Cisco Catalyst 4500E Series includes 1 + 1 supervisor engine redundancy (10-slot and 7-slot chassis only), redundant fans, software-based fault tolerance, and 1 + 1 power supply redundancy. Integrated resiliency in both hardware and software minimizes network downtime, helping to ensure workforce productivity, profitability, and customer success.

The Cisco Catalyst 4500E Series extends control to the network edge with intelligent network services, including sophisticated quality of service (QoS), predictable performance, advanced security, comprehensive management, and integrated resiliency. Scalability of these intelligent network services is made possible with dedicated, specialized resources known as ternary content-addressable memory (TCAM). Ample TCAM resources (up to 384,000 entries) enable "high feature capacity", which provides wire-speed routing and switching performance independent of provisioning of services such as QoS and security.
The Cisco Catalyst 4500E Series offers four chassis options and four supervisor engine options. It provides a common architecture that can scale up to 388 ports. The Cisco Catalyst redundant R+E chassis offer high availability by supporting 1 + 1 redundant supervisor engines with subsecond failover time and full-image In-Service Software Upgrades (ISSUs). Nonstop forwarding with stateful switchover (NSF/SSO) and ISSU help ensure continuous packet forwarding during supervisor engine switchover to help ensure high availability for collaboration applications and voice over IP (VoIP). Using the same line cards as the widely deployed Cisco Catalyst 4000 Series Switches and classic Cisco Catalyst 4500 Series Switches, the Cisco Catalyst 4500E Series furthers Cisco's commitment to affordable enterprise and branch-office scalability.
Managing the Cisco Catalyst 4500E Series Switch
Network management applications are instrumental in lowering operating expenditures (OpEx) while improving network availability by simplifying and automating many of the day-to-day tasks associated with managing an end-to-end network. The Cisco Catalyst 4500 Series Switches offer both a superior CLI for detailed configuration and Cisco Prime™ infrastructure for unified wired plus wireless management. Prime infrastructure provides day 0 and ongoing provisioning, ongoing monitoring and maintenance, configuration templates, and device and user 360-degree views and serves as the FNF collector for user traffic views using the Prime Assurance Manager module.
Unified Access One Management
Cisco Prime Infrastructure combines the wireless functionality of Cisco Prime Network Control System (NCS) and the wired functionality of Cisco Prime LAN Management Solution (LMS) with rich application performance monitoring and troubleshooting capabilities of Cisco Prime Assurance Manager.
This single solution can enable IT organizations to consolidate tools and converge workflows, reducing operational overhead and increasing productivity. It provides a new operational model based on lifecycle processes aligned with the way network operators do their jobs.
Cisco Prime Infrastructure provides:
Converged wired and wireless management of access, branch, and wide area networks
Comprehensive network lifecycle management, including user access visibility, inventory, configuration management, plug and play, radio frequency planning, and best practices reporting
End-to-end application and service assurance visibility to quickly isolate and troubleshoot performance issues, using technologies such as flexible NetFlow, Network-Based Application Recognition (NBAR), and Medianet Performance Agent
Prime 360 Experience providing a relational, multidimensional view of users, applications, and network to simplify the diagnostics and remediation of network and service affecting issues
Cisco Prime Infrastructure is built with scalability and extensibility in mind. It has the ability to manage global enterprise networks with thousands of network devices and hundreds of thousands of access devices, or smaller commercial networks with the same level of control and resiliency. It also provides powerful REST-based APIs enabling IT and service organizations to gather and distribute network information for operations, capacity planning, automation, and business intelligence.