Cisco Catalyst C6880-X Series Switch

Deploy Unified Access with a Modular Access Switch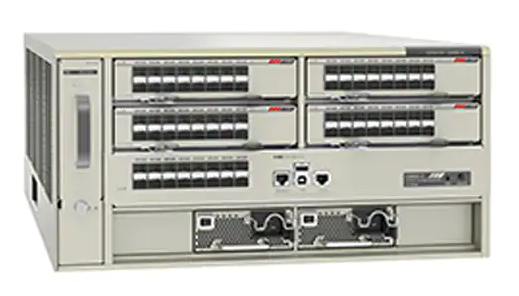 Advanced Services in a Compact Form Factor
Introduce 10 Gigabit advanced services with Cisco Catalyst 6880-X Switches. Catalyst 6880-X meets the unique needs of a midsize campus, with the ideal combination of:
Advanced services
Optimal port capacity
10 Gigabit Ethernet density
Compelling economics
Sorry, this product is no longer available.
Switch to something new: Catalyst 9500 Series switches
Boost speed and performance with our newest, most secure switches! The Catalyst 9500 Series includes our highest density fixed-core enterprise network switches.
---
Features and Capabilities
These switches offer:
Five slots (one fixed and four extensible half-wide slots) on less than a 5-rack-unit (RU) form factor chassis
Support for up to eighty 10/1 Gigabit Ethernet or twenty 40 Gigabit Ethernet ports, and readiness for 100 Gigabit Ethernet
Full feature consistency with Cisco Catalyst 6500 Series Switches
In addition, these switches provide:
Highest-density 10 Gigabit Ethernet Multiprotocol Label Switching (MPLS), Virtual Private LAN Service (VPLS), and multicast functionality
Easy network management with the Cisco Catalyst Instant Access Solution
Simplified roaming and device mobility with the innovative Cisco Campus (Locator/ID Separation Protocol (LISP))
---