Cisco Catalyst 8500 Series Edge Platforms

Build a smarter network edge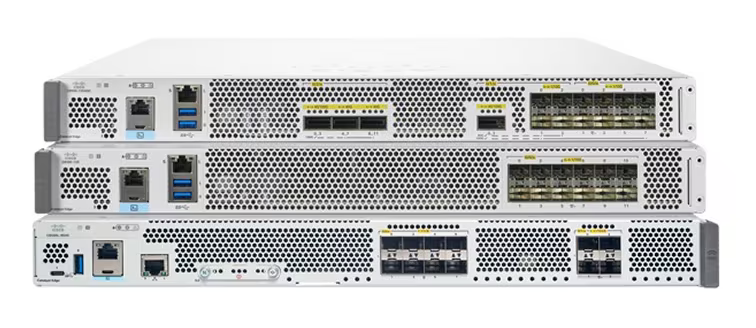 Cisco Products
Cisco Catalyst 8500 Series Edge Platforms
Cisco C8500-20X6C Edge Platform
Cisco C8500-12X4QC Edge Platform
Cisco C8500-12X Edge Platform
Cisco C8500L-8S4X Edge Platform
More pricing below, click here!
Overview:
Designed for security, built for scale. Create a superior network edge with accelerated aggregation services, multicloud networking, and edge intelligence.
The Cisco Catalyst 8500 Series Edge Platforms are high-performance cloud edge platforms designed for accelerated services, multi-layer security, cloud-native agility, and edge intelligence to accelerate your journey to cloud.
Foundation for Software-Defined WAN
Cisco Catalyst 8500 Series Edge Platforms (Catalyst 8500 and Catalyst 8500L) with Cisco IOS XE SD-WAN Software deliver Cisco's secure, cloud-scale SD-WAN solution for aggregation sites. The Catalyst 8500 Edge Platforms feature the all-new third-generation Cisco Quantum Flow Processor (QFP), the Catalyst 8500 Series Edge Platforms are built for services from the ground up. The Catalyst 8500L Edge Platform features an x86 based platform architecture that is purpose built to continue delivering the same experience as an ASR1000 platform. The Catalyst 8500 Series Edge Platforms are compact 1RU or 3U (Catalyst C8500-20X6C) devices with flexible interface options, including 1GE, 10GE, 40GE, and 100GE ports. Powered by Cisco IOS XE, fully programmable software architecture, and API support, these platforms can facilitate automation at scale to achieve zero-touch IT capability while migrating workloads to the cloud.
Cloud-scale WAN performance in a compact form factor
Expedite your cloud journey with accelerated services, multilayer security, and edge intelligence.
Create great user experiences
Deliver outstanding service and agile connectivity to users near and far.
Streamline services integration
Enjoy cloud-scale performance with accelerated services that are powered by custom application-specific integrated circuit (ASIC) architecture.
See more, solve more
Centrally manage your environment with Cisco vManage. Get actionable insights across the internet, cloud, and applications with built-in Cisco vAnalytics and Cisco ThousandEyes solutions.
Layer your security
Gain industry-leading multilayered protection—and move to secure access service edge (SASE) with SD-WAN for on-premises and cloud-delivered security.
---
Pricing Notes:
Pricing and product availability subject to change without notice.
Cisco Products
Cisco Catalyst 8500 Series Edge Platforms
Cisco C8500-20X6C Edge Platform
Cisco C8500-12X4QC Edge Platform
Cisco C8500-12X Edge Platform
Cisco C8500L-8S4X Edge Platform