Cisco Business CBS250-24P-4X

24-port PoE+ Gigabit Ethernet Smart Switch with 4 x 10 Gigabit SFP+ (195W Power Budget)

CBS250-24P-4X hardware is backordered indefinitely and cannot be purchased, please check 250 Series Smart Switches for a viable in-stock replacement, please contact us for further assistance.
More pricing below, click here!
Overview:
Build a reliable, easy-to-use business network at an affordable price
From connectivity to cloud applications, networking plays a crucial role in every business journey. Reliability, security, and affordability continue to be top of mind while ongoing management and operations add additional complexity that take time and resources.
Cisco Business is a portfolio of affordable wireless access points, switches and routers designed and built for Small Business. Managed through Cisco Business Dashboard and mobile app, the portfolio provides a simple and reliable experience. Cisco Business Dashboard simplifies traditional challenges in deploying and managing business networks by automating the deployment, monitoring and lifecycle management of the network.
The Cisco Business 250 Series is the next generation of affordable smart switches that combine powerful performance and reliability with a complete suite of the features you need for a solid business network. These switches provide flexible management options, comprehensive security capabilities and Layer 3 static routing features far beyond those of an unmanaged or consumer-grade switch, at a lower cost than for fully managed switches. When you need a reliable solution to share online resources and connect computers, phones, and wireless access points, Cisco Business 250 Series Smart Switches provide the ideal solution at an affordable pricing point.

Flexibility
Get 8 to 48 ports of Gigabit Ethernet connectivity, GE or 10-GE uplinks, and PoE+ support.

Simplicity
Plug and play with existing voice, wireless, data, video, and connected networking devices.

Performance
Provide additional fiber connectivity for higher uplink bandwidth and expanded options with more PoE power budget.

Security
Integrated security helps to prevent unauthorized access and protects your business data.

Business Applications
Whether you need basic, high-speed connectivity for your computers and servers or a comprehensive voice, data, and wireless technology solution, Cisco Business 250 Series switches can meet your business needs. Possible deployment scenarios include:
High-speed desktop connectivity: Cisco Business 250 Series switches can quickly and securely connect employees working in small offices with one another and with all of the printers, servers, and other networking devices. High performance and reliable connectivity help speed up file transfers and data processing, improve network uptime, and keep your employees productive.
Flexible wireless connectivity: Cisco Business 250 Series switches work with Cisco and third-party wireless solutions to extend the reach of your network. With security features, Power over Ethernet Plus (PoE+), Virtual Local Area Network (VLAN), and QoS, these switches are the perfect foundation to add enterprise-grade wireless solutions to a network. The capability of up to 30W of power per port provided through the Ethernet cable means you can easily deploy Cisco Business Wireless access points to maximize workforce productivity.
Unified communications: The Cisco Business 250 Series provides QoS features to enable you to prioritize delay-sensitive traffic in your network and let you converge all of your communications solutions such as IP telephony and video surveillance onto a single Ethernet network. Cisco offers a complete portfolio of IP telephony and other unified communications products designed for small businesses, and Cisco 250 Series switches have been rigorously tested to help ensure easy integration and full compatibility with these and other vendor products.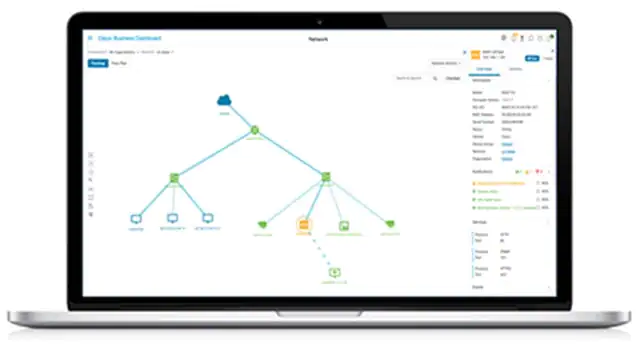 Cisco Business Dashboard
Cisco Business Dashboard makes managing a business network easy by automating the deployment, monitoring, and lifecycle management of Cisco Business switches, routers, and wireless access points.


Cisco Business Dashboard and Cisco Business mobile app
---
Pricing Notes:
Pricing and product availability subject to change without notice.