Cisco Firepower 1000 Series

Enterprise-grade protection for small offices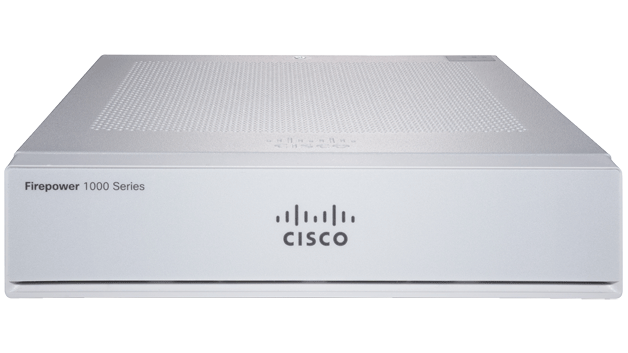 The Cisco Firepower® 1000 Series is a family of three threat-focused Next-Generation Firewall (NGFW) security platforms that deliver business resiliency through superior threat defense. It offers exceptional sustained performance when advanced threat functions are enabled. The 1000 Series' throughput range addresses use cases from the small office, home office, remote branch office to the Internet edge. The 1000 Series platforms run Cisco Firepower Threat Defense (FTD). Support for Cisco® Adaptive Security Appliance (ASA) Firewall will be added in a later release.
Protect your business while you grow your business. The Firepower 1000 Series offers performance, ease of use, and deep visibility and control to detect and stop threats fast. Its design optimizes security services without degrading network performance.
---
Features and Benefits

Protects against advanced threats
Application visibility and control, next-generation intrusion prevention system, advanced malware protection, and URL filtering work together to provide enterprise-level protection.

Performance and reliability
Inspect up to three times higher throughput than the prior generation. Customers can enable security services with zero degradation.

Better encrypted traffic inspection
Seventy percent of today's Internet traffic is encrypted. Better secure and protect your traffic against hidden threats.

The power of the portfolio
Works with security tools like Cisco Threat Response to detect and stop threats across your environment.
Cisco Firepower 1000 Series

List Price: $1,195.00
Our Price: $1,314.5‬0
Up to 650 Mbps
Multiservice capable
8 x RJ-45 ports
DT

List Price: $4,495.00
Our Price: $2,941.98
Up to 1.5 Gbps
Multiservice capable
8 x RJ-45, 4 x SFP ports
1RU

List Price: $7,495.00
Our Price: $4,905.48
Up to 2.2 Gbps
Multiservice capable
8 x RJ-45, 4 x SFP ports
1RU