Cisco Secure Firewall ISA3000

Security, speed, and scalability for a powerful data center
Cisco Products
Cisco Firewall ISA3000
Cisco Industrial Security Appliance 3000 2 copper 2 fiber ports
#ISA-3000-2C2F-K9=
List Price:
$5,343.55
Our Price: $3,644.33
Click here for more options and pricing!
Overview:
The ISA3000 bundles the proven security of the Cisco Secure Firewall with the visibility and control of industrial protocols and applications developed by leading automation vendors such as Omron, Rockwell, GE, Schneider, Siemens, and others. The ISA3000 is key as you start converging IT and OT security and capturing the benefits of your industrial digitization efforts.
As a foundational component of your IoT/OT security journey, the ISA3000 is the ideal ruggedized firewall to segment industrial networks, protect OT assets from potential threats, and build compliance with a variety of industrial standards, regulations, and guidelines such as NERC-CIP, ISA99/IEC62443, CFATS, ANSI/AWWA G430, and others.
Certified for deployment in the most demanding industries (power utilities, oil and gas, transportation, mining, manufacturing, water utilities, and more), the ISA3000 is widely used as a DMZ firewall to connect small, distributed industrial sites, enforce segmentation of large internal networks, and manage VPN connections to enable secure management of remote assets and seamless distributed operations.
The ISA3000 protects industrial processes and vulnerable control equipment. It leverages industry-leading threat detection and vulnerability exploit protection rules developed by Cisco Talos®, including thousands of industrial-focused rules. Using OpenAppID and Deep Packet Inspection (DPI) of industrial protocols, it even lets you write your own custom detectors to create alerts and block or allow traffic based on the industrial application flows you most care about. Cisco Advanced Malware Protection (AMP) is also built in to continuously track suspect file propagation.
Features and benefits
Enforce security policies in IoT/OT environment
Control industrial network traffic. Cisco ISA3000 supports OT protocols including DNP3, CIP, Modbus, IEC61850, and more.
Certified for deployment in the most demanding industries
Deploy reliable security. Cisco ISA3000 is built to support extreme temperature, vibration, shock, surge, and electrical noise.
Advanced IT and OT threat detection and protection
Cisco ISA3000 leverages industry-leading Talos threat intelligence, including thousands of ICS rules to protect unpatched OT devices.
Product Overview:
The Cisco Secure Firewall ISA3000 offers:
Controlled traffic to, from, and between manufacturing cells or industrial zones
Secured WAN connectivity for power substations and isolated industrial assets
Flexible and secure enterprise-class remote access
Critical network infrastructure services such as IP routing, NAT, DNS, DHCP, and more
Unequaled threat protection for every level of networking and computing — from the switch, router, OS, and compute infrastructure to industrial control systems
Wide support for industrial protocols for visibility and control over every level of your applications in both the industrial and enterprise space
More levels of traffic continuity safety than other offerings in the industrial space
Common Criteria for IT security certification.
Build your industrial DMZ
Secure small distributed industrial sites. The ISA3000 is the ideal DMZ firewall to connect utility substations, pipeline networks, remote control units, or street cabinets.
Secure operations with network segmentation
Prevent any threats or malicious actors from moving unchallenged laterally through the network. The ISA3000 separates the various parts of your industrial network so that business-critical processes are kept safe.
Protect vulnerable assets from malicious activities
Block threats and exploits to vulnerable industrial control equipment. The ISA3000 leverages threat intelligence from Cisco Talos to detect malicious activity or harmful traffic and protect assets that cannot be patched.
Connect machines with duplicate IP addresses
Enable communications between different machines and cells without changing IP addresses. The ISA3000 translates IP addresses and secures communications so you can easily connect prebuilt systems.
Technical Specifications: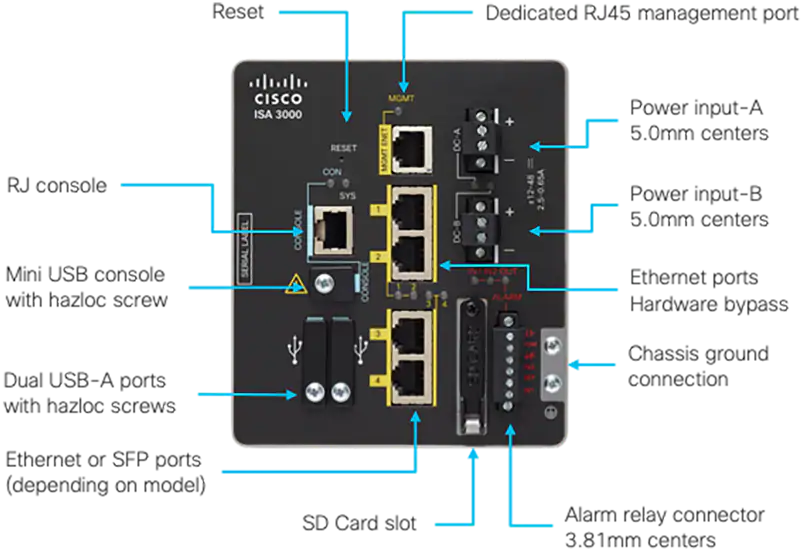 Cisco Secure Firewall ISA3000 General Capabilities
Capability
Features
Robust industrial design

Built for harsh environments and temperature ranges (-40° to 158°F; -40° to 70°C)
Hardened for vibration, shock, surge, and electrical noise immunity
Four Gigabit Ethernet uplink ports, providing multiple resilient design options (4 copper or 2 copper plus 2 fiber)
Complies with multi-industry specifications for industrial automation, Intelligent Transport Systems (ITS), and electrical substation environments
Improves uptime, performance, and safety of industrial systems and equipment
Compact DIN rail unit design with industrial LED features, allowing easy monitoring
Fanless and convection cooled with no moving parts for extended durability
IEEE 1588v2 Precision Time Protocol (PTP) clock synchronization (default profile is supported)
Alarm I/O for monitoring and signaling to external equipment.

User-friendly GUI device manager

On-device management for local awareness and immediate control using Cisco Firepower ® Device Manager
Centralized management configuration, logging, monitoring, and reporting using Cisco Firepower Management Center
Cloud-based management option available with Cisco Defense Orchestrator
Multidevice management that handles hundreds of devices
User-specific access and control customizations

Traffic continuity and protection

Full "lights out" traffic bypass copper ports
Default passive deployment learning mode
Software updates without traffic loss
Connection limitations to protect from denial-of-service-causing traffic
Latency detection and mitigation functions
Quality-of-service policies

OT and ICS protocol support

BACnet
Common Industrial Protocol (CIP) (AppID for individual CIP applications available)
Companion Specification for Energy Metering (COSEM)
Connection Oriented Transport Protocol (COTP)
Distributed Network Protocol (DNP3)
EtherNet/IP
Generic Object Oriented Substation Events (GOOSE)
Generic Substation Events (GSE)
Emission Control Protocol
Fujitsu Device Control
Honeywell Control Station/NIF Server
Honeywell Esperion DSA Server Monitor
IEC 60870-5-104 (AppID for individual commands available)
IEC 61850 MMS (AppID for individual commands available)
ISO Manufacturing Message Specification (MMS)
Modbus
Omron FINS
OPC Unified Architecture (OPC-UA)
Q.931
Siemens S7
SRC
TPKT
Access control capabilities
Capability
Features
Proven, extensible access control

Enforces ISA99/IEC 62443 segmentation needs
Stateful inspection (Layers 2 through 7)
Transparent and routed firewall operation modes
Provides features to enable electronic security perimeter (ESP) for NERC-CIP compliance
Next-Generation Intrusion Prevention System (NGIPS)
Identity-based access control policies (users, devices, SGTs, etc.)
VPN: Remote Access, site-to-site

Application control

Visibility and control of all DMZ infrastructure
Visibility and control of industrial applications
Visibility and control of individual protocol commands and values
ICS/OT protocol visibility and/or control

Remote access enablement and control

Network access control via Cisco AnyConnect ®
Cisco ISE support
Site-to-site VPN
Remote Access VPN
Cisco Secure Desktop
Support for Citrix and VMware clientless connections

Multilevel access controls

Global block lists — automated or manual
Global allow lists
Third-party intelligence feed utilization
File allow lists
File block lists
Application-level access control
802.1X support

Cisco TrustSec® controls

In-band and out-of-band identity
Active Directory integration
Policy based on SGTs
802.1X support
MACsec and MAC Authentication Bypass (MAB) support
Enforces endpoint security state for remote access
Networking capabilities
Capability
Features
DMZ infrastructure

DNS services
Dynamic Host Configuration Protocol (DHCP) services
Authentication, authorization, and accounting (AAA) support
IP routing (v4 and v6)

Layer 3 routing

IPv4 static routing
Dynamic routing (Routing Information Protocol [RIP], Enhanced Internet Gateway Routing Protocol [EIGRP], Intermediate System to Intermediate System [IS-IS], Open Shortest Path First [OSPF], and Border Gateway Protocol [BGP])

Network Address Translation (NAT)

Static NAT
With port translation, one-to-many, nonstandard ports
Dynamic NAT
Dynamic Port Address Translation (PAT)
Identity NAT

Layer 2 IPv6

IPv6 host support, HTTP over IPv6, Simple Network Management Protocol (SNMP) over IPv6

Trunking
Logging

Local logs, syslog, Security Analytics and Logging (SAL), eStreamer, and Log in the management application
Proven integration with leading security information and event management (SIEM) systems (QRadar, Splunk, etc.)

Clock synchronization

IEEE 1588 (hardware-enabled PTP)
Performance specifications
Feature
Performance
Throughput: NGIPS (1024B)
500 Mbps
Throughput: Firewall (FW) + Application Visibility and Control (AVC) (1024B)
375 Mbps
Throughput: FW + AVC + Intrusion Prevention System (IPS) (1024B)
350 Mbps
Maximum concurrent sessions, with AVC
50,000
Maximum new connections per second, with AVC
2700
IPsec VPN throughput
(1024B TCP with Fastpath)
50 Mbps
Maximum VPN peers
25
Application Visibility and Control (AVC)
Standard, supporting more than 4000 applications as well as geo locations, users, and websites
URL filtering
More than 80 categories More than 280 million URLs categorized
Defined interfaces
200, 400 (with SecPlus license on ASA), 400 (FTD)
VLAN counts
5, 100 (with SecPlus license on ASA), 100 (FTD)
IPv4 MACsec Access Control Entries (ACEs)
1000 with default TCAM template
NAT
Bidirectional, 128 unique subnet NAT entries, which can expand to tens of thousands of translated entries if designed properly
Security feature specifications
Feature
Support information
Transport Layer Security (TLS) decryption
Yes
AVC: OpenAppID support for custom, open-source application detectors
Standard
Cisco security intelligence
Standard, with IP, URL, and DNS threat intelligence
Cisco Firepower NGIPS
Available; can passively detect endpoints and infrastructure for threat correlation and IoC intelligence
Cisco Secure Firewall
(formerly Cisco AMP for Networks)
Available; enables detection, blocking, tracking, analysis, and containment of targeted and persistent malware, addressing the attack continuum both during and after attacks. Integrated threat correlation with Cisco Secure Endpoint (formerly Cisco AMP for Endpoints) is also optionally available
Cisco Secure Malware Analytics
(formerly Cisco Threat Grid) sandboxing
Available
Automated threat feed and IPS signature updates
Yes: class-leading Collective Security Intelligence (CSI) from the Cisco Talos group (https://www.cisco.com/c/en/us/products/security/talos.html)
Third-party and open-source ecosystem
Open API for integrations with third-party products; Snort® and OpenAppID community resources for new and specific threats
High availability and clustering
Active/standby failover
Cisco Trust Anchor technologies
Includes Trust Anchor technologies for supply chain and software image assurance
Physical specifications
Description
Specification
Hardware

4-core Intel Atom processor (industrial temp.)
8-GB DRAM (soldered down)
16-GB onboard flash memory
mSATA 64 GB
1-GB removable SD flash memory card (industrial temp.)
Mini-USB connector for console
RJ-45 traditional console connector
Dedicated 10/100/1000 management port
Hardware-based anti-counterfeit, anti-tamper chip
Factory reset option

Alarm I/O

Two alarm inputs to detect dry contact open or closed
One Form C alarm output relay

Dimensions (WxHxD)

11.2 x 13 x 16 cm (4.41 x 5.12 x 6.30 in.)

Weight
Power supply and ranges

Dual internal DC
Nominal: ± 12V DC, 24V DC, or 48V DC
Maximum range: 9.6V DC to 60V DC
Power consumption: 24W

Mean time between failures (MTBF)

ISA-3000-4C: 398,130 hours
ISA-3000-2C2F: 376,580 hours
Pricing Notes:
Pricing and product availability subject to change without notice.
Cisco Products
Cisco Firewall ISA3000
Cisco Industrial Security Appliance 3000 2 copper 2 fiber ports
#ISA-3000-2C2F-K9=
List Price:
$5,343.55
Our Price: $3,644.33