Cisco NAM 2220 Appliance

Two 10 Gigabit Ethernet monitoring interfaces and six 146 GB SAS hard disk drives with RAID

Sorry, this product is no longer available, please contact us for a replacement.
Cisco NAM 2204 Appliance:
The network is the foundation for application delivery. Next-generation networks need to meet the growing challenge of effectively delivering applications and services in complex IT environments, where reliable application performance is vital to business success. New applications need to be successfully deployed. Network resources need to be available and used wisely. Performance degradations need to be identified and resolved before they affect business.
The Cisco Network Analysis Module (NAM) provides unparalleled visibility into how your network is performing and how your users experience the delivery of applications and services to help you understand and improve application performance. The broad portfolio of Cisco NAMs, which encompasses integrated services modules, self-contained appliances, and now virtual service blades, arms you with what you need to manage performance from the branch to the data center.
Product Overview
Introduced in NAM 4.0, the Cisco NAM 2200 Series Appliances offer next-generation performance, superior scalability, and maximum deployment flexibility to deliver exceptional performance monitoring throughout your Cisco network.
The design of the Cisco NAM 2200 Series Appliances is founded on the Cisco Common Appliance Model, Cisco's computing-optimized platform, and includes purpose-built hardware to maximize packet processing in high-speed networking environments. The results are robust appliances that provide granular traffic analysis, rich application performance measurements, comprehensive voice quality of experience monitoring, and deep insightful packet captures.
Cisco offers two appliances models, the Cisco NAM 2220 Appliance and the Cisco NAM 2204 Appliance. The Cisco NAM 2220 Appliance includes two 10 Gigabit Ethernet monitoring interfaces and six 146 GB Serial Attached SCSI (SAS) hard disk drives with RAID for multiservices monitoring in high-speed, high-density environments. The Cisco NAM 2220 comes with an option for redundant power. To extend uptime, both the hard disk drives and the power supplies are hot-swappable.
The Cisco NAM 2204 includes four 1 Gigabit Ethernet monitoring interfaces and two 250 GB Serial Advanced Technology Attachment (SATA) hard disk drives to meet diverse performance analysis needs in scalable multigigabit switching and routing deployments.
The Cisco NAM 2200 Series Appliances also include the embedded, web-based Traffic Analyzer GUI, which provides quick access to both configuration menus and easy-to-read performance reports. The GUI can be accessed from any desktop, eliminating the need to send personnel to remote sites or haul large amounts of data to the central site. To enhance security, role-based access can be assigned and web browser access can be secured with up to 256-bit encryption.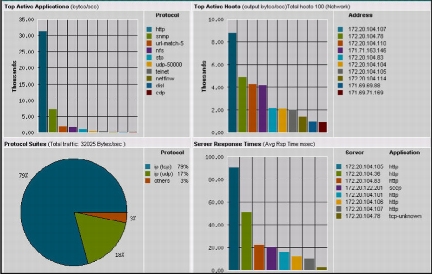 Web-Based Performance Monitoring with the Embedded Cisco NAM Traffic Analyzer
---
Pricing Notes:
Pricing and product availability subject to change without notice.