Cisco Nexus 3000 Series Switches

Get top-of-rack, Layer 2 and 3 switching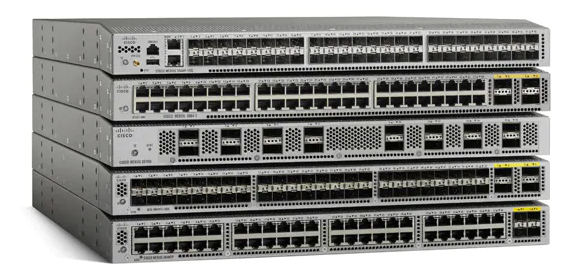 Cisco Products
Cisco Nexus 3100 Series Switches
Cisco Nexus 31128PQ Switch with 96 SFP+ ports and 8 QSFP+ ports
Cisco Nexus 3100-V Series Switches
Cisco Nexus 31108PC-V Switch with 48 SFP+ and 6 QSFP28 ports
Cisco Nexus 31108TCV-32T Switch with 32 10GBase-T RJ-45 and 6 QSFP28 ports
Cisco Nexus 3132Q-V Switch with 32 QSFP+ ports
More pricing below, click here!
Overview:
Simplify management. Increase network visibility. Improve monitoring. The 3000 Series offers low-latency, highly programmable, high-density switches. These compact fixed switches are excellent for general-purpose deployments, high-performance computing (HPC), high-frequency trading (HFT), massively scalable data center (MSDC), and cloud networks.
Cisco Nexus 3000 series merchant silicon-based switches offer low-latency, high-density for general deployments, high-performance computing, data centers and cloud. The 3500 platforms are feature rich and optimized for ultra-low latency deployments.
Simplified operations
Cisco Embedded Event Manager, Python scripts, touchless boot and configuration, Cisco Data Center Network Manager, XML management tools, and advanced reboot features are included. Use Cisco Nexus Data Broker for visibility and monitoring.
Open programmability
DevOps automation tools (Puppet, Chef, Ansible, etc.) are built in. NX-API offers a common programming approach across switches. Python scripts, Bash shell, and Linux containers support customer applications. OpenStack and OpenFlow support SDN.
Scalability and high performance
Get multitenant scalability with VXLAN support. Cisco bidirectional support simplifies migration to 40 Gigabit Ethernet. AlgoBoost and Warp mode on Cisco Nexus 3500 Series Switches provide one of the lowest latency rates in the industry.
High availability and efficiency
Modular Cisco NX-OS Software supports fault isolation. Switches use redundant, hot-swappable power supplies and fan modules. Shared buffer space handles microbursts, regular data traffic flow, and jitter for increased network efficiency.
Compare Nexus 3000 Series models
The series is designed for top-of-rack deployments. It offers 24 to 128 ports, high performance, and comprehensive features.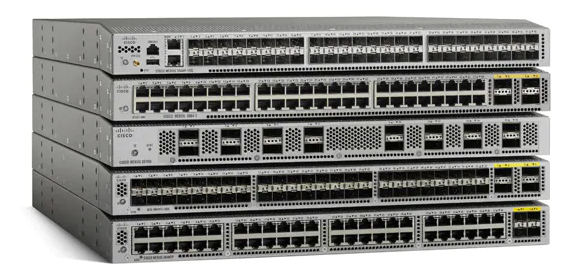 Nexus 3100, 3100V Series
Suited for big data, cloud, and virtualization
Optimized for 10G access and 10/100/1000 Mbps management
Compact, power-optimized platforms
VXLAN routing
Nexus 3100-Z
Compact: 100G 1RU
Flexible connectivity: 128 ports x 1/10/25/40/50/100G
Highly versatile leaf/spine platform
Wire-speed Layer 2 and 3 switching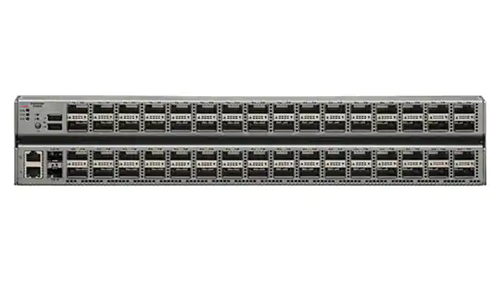 Nexus 3200 Series
High density and 42-MB buffer
MACsec-capable and includes telemetry for top-notch security
Highly programmable with comprehensive features
10/25/40/50/100-Gbps connectivity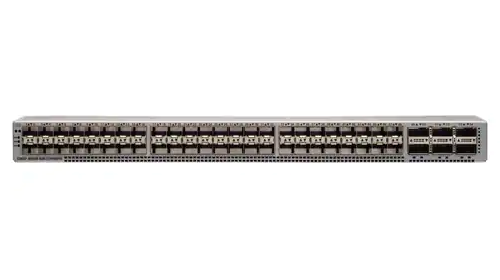 Nexus 3400 Series
Programmable pipeline
In-band network telemetry (INT)
Suited for web-scale, service provider, and financial data centers
Supports 1/10/25/40/100/400G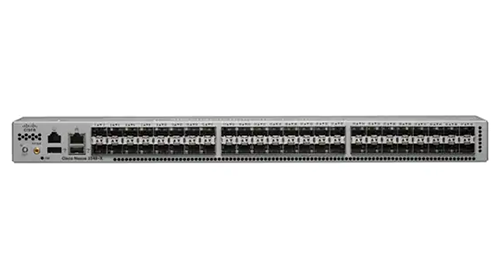 Nexus 3500 Series
Lowest latency in the industry
Comprehensive features, including AlgoBoost
Suited for HFT and HPC deployments
1/10/40-Gbps connectivity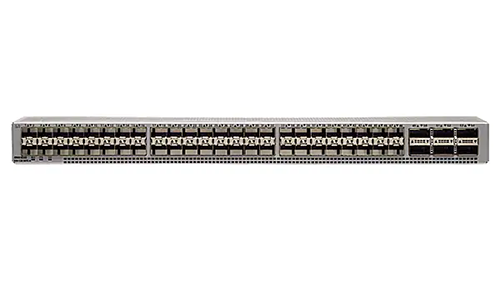 Nexus 3600 Series
Large 8-GB buffers and large tables
Native 25 GE support for access connectivity
Highly programmable with NX-API
1/10/25/40/100-Gbps connectivity
---
Pricing Notes:
Pricing and product availability subject to change without notice.