Cisco Secure Workload

Stop lateral threats and reduces your attack surface with zero-trust microsegmentation
Reduce your attack surface with zero trust microsegmentation
Stop threats from spreading and protect the applications that power your business with zero trust microsegmentation, on any workload, across any environment.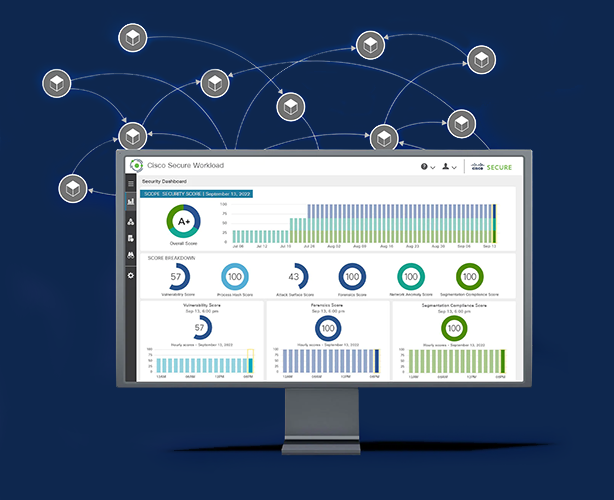 Safeguard application workloads, wherever they live
Do you know what your applications are doing? Take control of your applications and drive security resilience with Secure Workload to protect the data your business relies on.
Enforce zero trust consistently, accurately
Designed for scale and speed, Secure Workload makes zero trust achievable by consistently and accurately enforcing microsegmentation across your entire application landscape—any workload, any location.
Industry-leading visibility and automation
Your single source of truth, providing comprehensive visibility into every workload interaction, powering best-practice policy recommendations and automation tailored to your environment and applications.
Stronger security from day one
Don't compromise. Strengthen your security posture, reduce risk, and decrease costs associated with application downtime at every step in your zero-trust journey.
Security at the speed of applications
Rapidly respond to application changes. Near real-time alerts, automated policies, and forensics with an auditable record help you quickly close security gaps and improve your posture.
Microsegmentation and workload protection
Explains the strength of Cisco Secure Workload (formerly Tetration) as a microsegmentation platform.
Decide which option is right for you
Software as a service (SaaS)
Reduce your attack surface with zero-trust microsegmentation. Experience all the benefits of Secure Workload without having to deploy and maintain the platform.
Suitable for any size customer
Fully managed by Cisco
Flexible pricing model; low barrier to entry
Quickly spin up and realize value faster
High performance, high availability
Enables secure migration to cloud and multicloud environments
Supports European data residency requirements
On-premises
Reduce your attack surface with zero-trust microsegmentation. Choose a hardware-based appliance model, in either a small or large form factor.
Suitable for any business type and size
High performance, high availability
On-premises control of apps and data
Enables secure migration to cloud and multicloud environments