Cisco WebEx Connect IM

Collaborate Securely with Anyone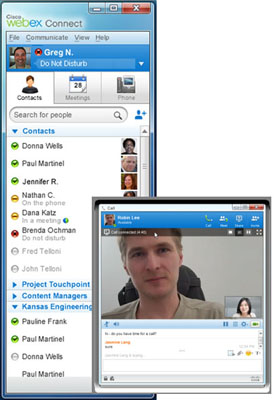 Sorry, this product is no longer available, please contact us for a replacement.
Overview:
Cisco WebEx Connect simplifies communications and enhances productivity by unifying presence, Instant Messaging (IM), IP telephony, voice and video, and web conferencing more securely into one client on your desktop. Cisco WebEx Connect is delivered through Software-as-a-Service, uses best-in-class unified communications, and integrates with commonly used desktop applications. Communicate and collaborate effectively from anywhere you have an Internet connection.
Communicate and collaborate more effectively with colleagues, partners, and customers by using Cisco WebEx Connect.
Facilitate Faster Decision Making
Enhance productivity with presence awareness. See which colleagues, partners, or customers are available, and get in touch right away.
Communicate Flexibly: The Right Solution for the Right Situation
Choose the best channel for your communication, including:
Instant messaging (IM)
Audio
Voice over IP (VoIP)
Video
Integrated web conferencing
WebEx Connect IM uses Extensible Messaging and Presence Protocol (XMPP), the only Internet presence and IM standard formalized by the IETF.
Extend Your Unified Communications Investment
Take advantage of your investments in Cisco Unified Communications by adding telephony to WebEx Connect IM.
Place, receive, and manage calls through your computer when you're working remotely, or manage your Cisco IP phone from WebEx Connect in the office. This requires Cisco Unified Communications Manager 6.1.3 or a later version and the Cisco Unified Communications Integration plug-in for WebEx Connect IM.
Features and Benefits:


Feature
Benefit
Communication integration
Use a single, intuitive interface for instant messaging (IM) with individuals and groups, IP telephony, visual voicemail, voice and web conferencing, peer-to-peer audio and video, desktop share, and communication history.
Presence
View real-time availability of co-workers and colleagues within and outside the enterprise network:

Exchange and display presence availability information and instant messages with other WebEx Connect users, Cisco Unified Personal Communicator, Cisco WebEx Connect, Microsoft Office Communicator and Lync, IBM Lotus Same time, AOL, Google Talk, and many other Extensible Messaging and Presence Protocol (XMPP)-compatible clients
Exchange presence information with mobile handsets using Cisco or third-party XMPP-compatible clients
Display customized availability messages
Your status is updated automatically when you are in a WebEx meeting or sharing an application
Show your availability based on the free and busy status in your Microsoft Outlook Calendar
Use the do-not disturb (DND) availability state to easily block incoming communications. The DND status is automatically synchronized between WebEx Connect and your Cisco Unified IP Phone to help ensure privacy for both IM and phone communications

Enterprise instant messaging
Chat in real time using IM to save time and reduce phone tag. Several chat modes are supported, ranging from:

Point-to-point chat with co-workers inside your network, or supported federated business and personal contacts
Group chat, which helps enable co-workers in your company and your external federated contacts to communicate and collaborate on an ongoing discussion
Maintaining a personal IM history for your reference

Predictive search
Look up contacts quickly - even if you do not remember how to spell a name. Predictive search provides suggestions to you as you type in a search query and indexes your contact list, recent contacts, Outlook contacts, and your company directory.
Media escalation
Choose the right communication tool for the situation. Escalate from a chat to an audio call, peer-to-peer video chat, or web meeting. Media escalations are as easy as clicking a button for point-to-point and group chat, voice, video, and web meetings.
Peer-to-peer audio and video
Place one-to-one Internet voice and high-definition (HD) video (720 p) calls directly between WebEx Connect clients.
Integrated voice telephony

Exchange ideas quickly by using WebEx Connect as a soft phone or for controlling your Cisco IP desk phone.

Make, receive, and control your phone calls whether you are in or out of the office. Click to call directly from your contact list without the need to look up phone numbers.
A variety of call-control options are available, including mute, park and retrieve, call transfer, call forwarding, on-demand conferencing, and the capability to easily move an active call to a mobile device.
The enterprise-class IP telephony reliability and failover features of Cisco Unified Communications Manager are supported.

Conferencing
Initiate multiparty voice and web meetings.

Group chat and audio conference sessions are as simple as clicking a button, eliminating the need to use other applications and interfaces to schedule, invite, or join conferences.
Initiate a web meeting session directly through the WebEx Connect client, using either Cisco Unified MeetingPlace or Cisco WebEx meeting applications to share content, such as a presentation, document, or your desktop.

Chat history
Access a history of your IM conversations.
Visual voice message access
Access and manage your voice messages.

View, play back, and delete voice messages from Cisco Unity or Cisco Unity Connection applications.
Highly secure messaging is provided, with support for private and encrypted voice messages.

Microsoft Office and Outlook integration
View contact presence information directly within Microsoft Outlook, Office, or SharePoint. Click on a contact to initiate an IM chat or audio call.
My meetings
View a calendar of your daily meetings and click to join your scheduled WebEx meetings.
Single sign on (SSO)
Single sign-on (SSO) also allows companies to use their on-premises SSO system to simplify the management of the WebEx Connect. With SSO, users more securely log in using their corporate login credentials.
Encryption
IM messages are standard-encrypted, 128-bit Secure Sockets Layer (SSL) up to 264-bit Advanced Encryption Standard (AES) encryption. Signaling and media are also encrypted.
Policy management
IT departments can set policies at the organizational or group levels to determine which users have access to specific features and capabilities.
Server-side IM logging
Keep logs of all IM traffic throughout your organization and send those messages to your existing email archives or to other third-party archiving endpoints.
Localization
Languages supported include English, French, Japanese, Spanish, German, Italian, Portuguese, Russian, Chinese (China), Chinese (Taiwan), and Korean.
Platform Comparison for Cisco WebEx Connect:


Windows
Mac (Cisco Jabber)
Presence
In a WebEx meeting
Yes
Yes
Sharing desktop
Yes
Yes
In a meeting
Yes
No
Instant Messaging
Broadcast
Yes
No
Group
Yes
Yes
Chat history
Yes
Yes
Screen capture
Yes
No
File transfer
Yes
Yes
Unified Communications Integration
Audio
Yes
Yes
Visual voicemail
Yes
Yes
Non-Unified Communications
Peer-to-peer audio
Yes
No
Peer-to-peer video
Yes
No
Desktop share
Yes
Yes
Meetings
Instant meeting
Yes
Yes
Join scheduled meeting
Yes
Yes
WebEx meeting list
Yes
Yes
Microsoft Integration
Calendar
Yes
No
Presence and IM
Yes
No
Click-to-communicate
Yes
Partial
Office (click-to-call)
Yes
Partial
Call Controls
Forward
Yes
Yes
Conference
Yes
Yes
Transfer
Yes
Yes
Send to mobile
Yes
Yes
Security and Administration
Policy enforcement
Yes
Yes
Encryption
Yes
Yes
SSO
Yes
Yes
Predictive Search
Contacts and recent calls
Yes
Yes
Personal contacts
Yes
Yes
Directory
Yes
Yes
GPL Licensing Options:
Cisco WebEx Connect can be procured via the Cisco Global Price List (GPL) using a number of flexible pricing and packaging options designed to meet the business needs of any organization. These options include:
Employee Count, which is best if your company meets the minimum license quantity requirements and you need to make WebEx Connect available to all employees without having to purchase each employee an individual account. It also allows you to pay a fixed price regardless of how many users actively use the services.
Active Host, which is best suited for a company that meets the minimum license quantity requirements, and wishes to make collaboration and messaging available to all employees without having to purchase each employee an individual account. However, unlike the Employee Count, you pay based on the number of users who make active use of the services.
Named Host, which is suitable for a company that wants to provide WebEx Connect for a portion, but not all, of the employees while paying based on the number of users who have access to the service.
Licensing Options
As Part of Enterprise Subscription
Access Offers
By Employee Count
By Active Host
Named Host
Subscription details
Every employee in an organization receives access to WebEx Connect with WebEx Enterprise Edition or WebEx Meeting Center.
The initial subscription is based on 15 percent of the total employee count, but all employees receive access to WebEx Connect. In year two, Cisco will calculate the number of active hosts to determine the new subscription count.
The initial subscription is based on 15 percent of the total employee count, but all employees receive access to the WebEx Connect. In year two, Cisco will calculate the number of active hosts to determine the new subscription count.
Minimum purchase
In order to purchase an Employee Count subscription, an organization must have a minimum of 100 employees.
Minimum 15 percent of total employee count, minimum number of licenses - 100.
An organization must purchase a minimum of 25 named hosts in order to buy off of the GPL, and there is no maximum order size.
Available terms
1,2,3 and 5-year subscriptions
1-year subscription
1, 2 and 3-year subscriptions; Monthly co-term SKUs
Optional IM federation available?
Yes
No
No
Customer support

24/7/365 technical support provided worldwide
Primary support in English
Technical support in Spanish, French, German, Japanese, Chinese, and Korean available during local regular business hours (define)