Cisco Catalyst 1000 Series 24-Port Switch

Gigabit Ethernet and Fast Ethernet enterprise-class Layer 2 switches

Cisco Products
Cisco Catalyst 1000 Series Switches
Cisco Catalyst 1000-24T-4G-L - Switch - managed - 24 x 10/100/1000 + 4 x Gigabit SFP (uplink) - rack-mountable
#C1000-24T-4G-L
List Price:
$1,365.69
Our Price: $629.51
Cisco Catalyst 1000-24T-4X-L - Switch - managed - 24 x 10/100/1000 + 4 x 10 Gigabit SFP+ (uplink) - rack-mountable
#C1000-24T-4X-L
List Price:
$2,983.02
Our Price: $1,516.03
More pricing below, click here!
Cisco Catalyst 1000 Series Switches: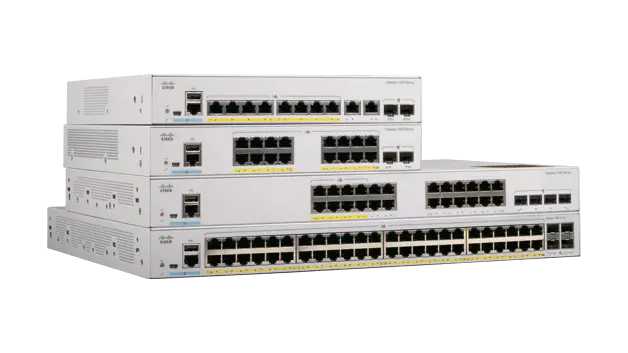 Simplicity, flexibility, and security
Cisco Catalyst 1000 Series switches provide enterprise-grade network access sized for small businesses. With a wide range of Power over Ethernet (PoE) and port combinations, these easy-to-manage switches provide the performance a modern small office needs.

Quiet and compact
The compact, fanless design with Power over Ethernet means Catalyst 1000 Series switches can hide in plain sight in open-plan spaces.

Simplified management
Catalyst 1000 Series switches run on classic Cisco IOS and can be configured with an intuitive on-box web UI, making management simple and easy.

Enhanced security
With Catalyst 1000 Series switches' larger-scale access-control tables and additional security features, you can segment traffic for greater security.

Improved hardware and software
Increased PoE budget, advanced software options, and larger-scale access control tables make the Catalyst 1000 a clear improvement over preceding models.
---
Pricing Notes:
Pricing and product availability subject to change without notice.
Cisco Products
Cisco Catalyst 1000 Series Switches
Cisco Catalyst 1000-24T-4G-L - Switch - managed - 24 x 10/100/1000 + 4 x Gigabit SFP (uplink) - rack-mountable
#C1000-24T-4G-L
List Price:
$1,365.69
Our Price: $629.51
Cisco Catalyst 1000-24T-4X-L - Switch - managed - 24 x 10/100/1000 + 4 x 10 Gigabit SFP+ (uplink) - rack-mountable
#C1000-24T-4X-L
List Price:
$2,983.02
Our Price: $1,516.03
Cisco C1000-24PP-4G-L Catalyst 1000 Series Switch 24x 10/100/1000 Ethernet Poe+ Ports And 195w Poe Budget, 4x 1g SFP Uplinks
#C1000-24PP-4G-L
List Price:
$1,607.65
Our Price: $1,100.03
Cisco Catalyst 1000-24FP-4G-L - Switch - managed - 24 x 10/100/1000 (PoE+) + 4 x Gigabit SFP (uplink) - rack-mountable - PoE+ (370 W)
#C1000-24FP-4G-L
List Price:
$3,607.80
Our Price: $2,460.53
Cisco Catalyst 1000-24P-4G-L - Switch - managed - 24 x 10/100/1000 (PoE+) + 4 x Gigabit SFP (uplink) - rack-mountable - PoE+ (195 W)
#C1000-24P-4G-L
List Price:
$2,279.74
Our Price: $943.06
Cisco Catalyst 1000-24P-4X-L - Switch - managed - 13 x 10/100/1000 (PoE+) + 11 x 10/100/1000 + 4 x 10 Gigabit SFP+ (uplink) - rack-mountable - PoE+ (195 W)
#C1000-24P-4X-L
List Price:
$3,301.32
Our Price: $2,068.00
Cisco Catalyst 1000-24FP-4X-L - Switch - managed - 24 x 10/100/1000 (PoE+) + 4 x 10 Gigabit SFP+ (uplink) - rack-mountable - PoE+ (370 W)
#C1000-24FP-4X-L
List Price:
$5,188.56
Our Price: $3,538.63
Cisco Catalyst 1000 Series Services
Cisco Smart Net Total Care - Extended service agreement - replacement - 8x5 - response time: NBD - for P/N: C1000-24T-4G-L
#CON-SNT-C1024TGL
List Price:
$95.00
Our Price: $94.51
Cisco Smart Net Total Care - Extended service agreement - replacement - 8x5 - response time: NBD - for P/N: C1000-24FP-4G-L
#CON-SNT-C10024GF
List Price:
$250.00
Our Price: $248.69
Cisco Smart Net Total Care - Extended service agreement - replacement - 8x5 - response time: NBD - for P/N: C1000-24P-4G-L
#CON-SNT-C10244LP
List Price:
$158.00
Our Price: $157.17
Cisco Smart Net Total Care - Extended service agreement - replacement - 8x5 - response time: NBD - for P/N: C1000-24PP-4G-L
#CON-SNT-C10P0024
List Price:
$111.00
Our Price: $110.42
Cisco Smart Net Total Care - Extended service agreement - replacement - 8x5 - response time: NBD - for P/N: C1000-24T-4X-L
#CON-SNT-C10024XL
List Price:
$207.00
Our Price: $205.92
Cisco Smart Net Total Care - Extended service agreement - replacement - 8x5 - response time: NBD - for P/N: C1000-24P-4X-L
#CON-SNT-C10X0L24
List Price:
$229.00
Our Price: $227.80
Cisco Smart Net Total Care - Extended service agreement - replacement - 8x5 - response time: NBD - for P/N: C1000-24FP-4X-L
#CON-SNT-C10X4L24
List Price:
$360.00
Our Price: $358.11