Cisco Umbrella: DNS Security Essentials Package

Simplifying security for any size business.
The leader in DNS-layer security
Cisco Umbrella delivers the most secure, reliable, and fastest internet experience to every single one of our more than 100 million users. As a leading provider of network security and recursive DNS services we enable the world to connect to the internet with confidence on any device. We've built a reputation on easy deployment and powerful protection anywhere users access the internet.
---
Block malware without latency
Umbrella is a cloud security platform built into the foundation of the internet. It enforces security at the DNS layer and blocks requests to malicious domains before a connection is even established — stopping threats over any port or protocol before they reach your network or endpoints.
Easily enforce content web filtering
With Umbrella, you can effectively manage your user's internet access using over 85+ category-based content filters. It's simple to create custom allow/block lists, and block domains with unwanted content. Umbrella gives you control over which sites can be accessed by your users so you can easily enforce and comply with acceptable use policies.
The Cisco Umbrella advantage
Umbrella processes 180 billion DNS requests for 100 million users and more than 18,500 businesses every day to deliver unmatched visibility into DNS activity worldwide. And because it is delivered from the cloud, it provides an effective security platform that is open, automated and easy to use.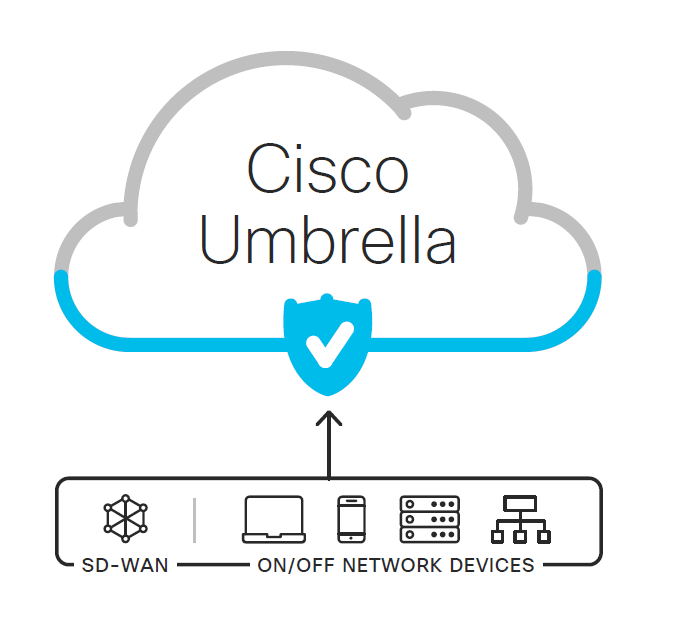 ---
Cisco Umbrella puts an end to security gaps



Limited visibility
Monitoring DNS requests, as well as subsequent IP connections is an easy way to provide better accuracy and detection of compromised systems, improving security visibility and network protection.

New and targeted attacks
Umbrella uncovers and blocks a broad spectrum of malicious domains, IPs, URLs, and files that are being used in attacks. We also feed huge volumes of global internet activity into a combination of statistical and machine learning models to identify new attacks being staged on the internet.

Skill shortage
With no hardware to install and no software to manually update, it's simple to manage. Umbrella lets you centrally manage users and quickly identify security risks across your deployment. Umbrella offers multiple APIs to make integration a snap, saving staff time.

---
Deployment Information
Umbrella is the fastest and easiest way to protect all of your users enterprise-wide in minutes. Umbrella offers APIs for network devices, management and reporting. With the Essentials package, you also have access to our enforcement API which enables integration with other security services to push blocked domains to Umbrella for extended enforcement everywhere.
On-network: Any network device (e.g. router, DHCP server) can be used to connect to Umbrella. Simply redirect your DNS to Umbrella's IP address. That's it. You can also leverage your existing Cisco footprint — Cisco Secure Client (including AnyConnect), Cisco routers (ISR 1K and 4K series), Cisco Wireless LAN Controllers, and Meraki MR/MX — to provision thousands of network devices and laptops in minutes.
Off-network: Available for laptops that use Windows, macOS, Chrome OS, and supervised Apple devices that run iOS 11.3 or higher.