Cisco Duo Multi-Factor Authentication

A Better Authentication Experience

Easily deploy Duo's two-factor authentication solution to protect every user and get basic access controls, advanced administrative management, and user provisioning. Plus, you get an overview of your overall device security hygiene.
Cisco Products
Cisco Duo: Multi-Factor Authentication
Cisco Duo: Multi-Factor Authentication
*Price is per user, per month
#Duo-MFA
Our Price: $42.40
With Duo MFA, you get everything in
Duo Free
, plus:
A Better Authentication Experience
Traditional two-factor solutions are unreliable and provide poor user experiences. They also often require professional deployment and ongoing management, which drive up the total cost of ownership.
A Modern Two-Factor Solution
Duo MFA makes multi-factor authentication (MFA) and two-factor (2FA) authentication easy for both administrators and users. Duo provides an easy-to-use, secure mobile authentication app for quick, push notification-based approval to verify your user's identity with smartphone, smartwatch and FIDO security key support. Duo also offers a more secure, Verified Duo Push option where users are required to input a unique code from the login device into the Duo Mobile app. Organizations can choose from a variety of second- and multi-factor authentication methods to fit every user's needs.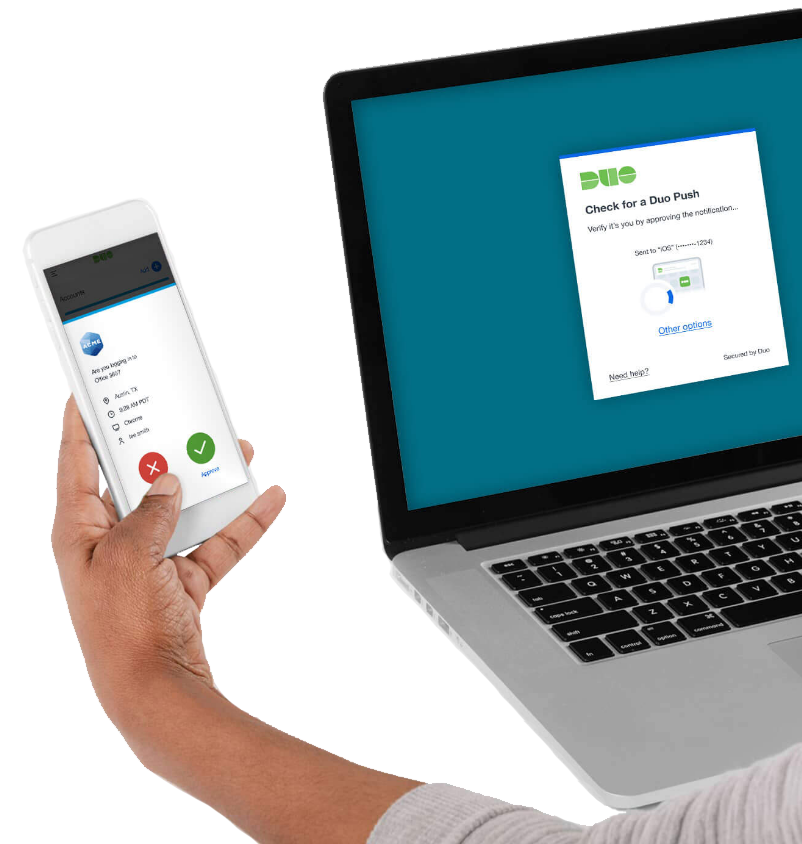 ---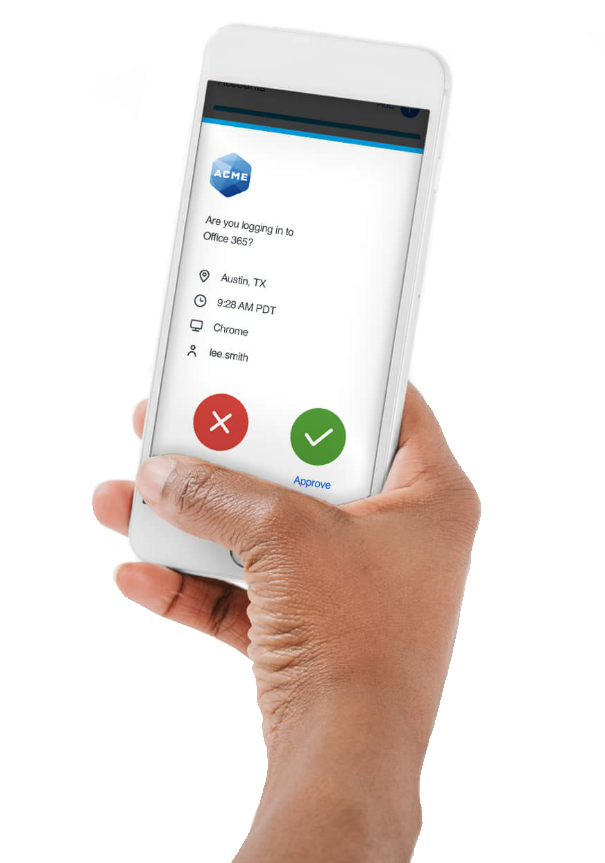 Easy Deployment and Provisioning
As a secure, cloud-based solution, Duo MFA requires no on-premises hardware to be deployed. Our most popular authentication method, Duo Push, is sent via Duo Mobile, our smartphone application. This requires minimal administrative effort when enrolling new users.
Enterprise Protection for Thousands of Users
Protect every user quickly with Duo's different user provisioning options - choose from Advanced Directory sync, bulk enrollment, user self-enrollment and more for accurate and frictionless user enrollment in Duo's two-factor solution.
Advanced Administrative Management
Using Duo's Admin APIs, advanced administrators can integrate and use Duo's solution in an automated and scalable manner. Admins can easily manage their users, phones, tokens and integrations. Admin APIs also allow customers to interact with Duo's security logs for customized reporting and analytics purposes.
---
Device Risks At-A-Glance
Device Insight Overview
Get a high-level summary of the security health of your devices with Duo's Unified Endpoint Visibility dashboard that populates with data about your devices every time they access your applications.
Access Controls
With Duo's access policies, you can limit access to your applications based on your company's unique security needs. Manage permissions by user group and flag trusted devices to minimize friction for your employees, while reducing security risk.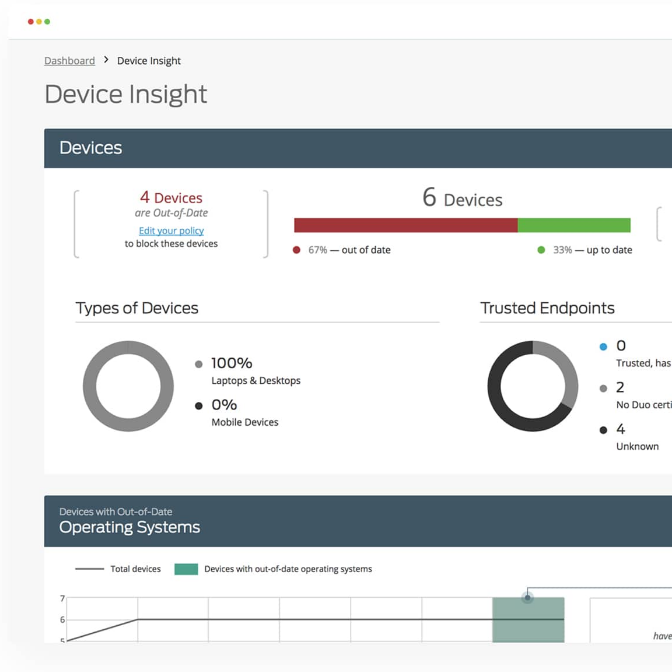 ---
Protect On-Premises and Cloud Applications
Secure Single Sign-On (SSO)
Duo's cloud-based secure SSO gives users an easy way to locate their cloud applications from a single portal. Admins can simplify setup with out-of-the-box integrations with cloud apps, and set granular policies for each cloud application based on risk to enhance access security.
Secure All Applications
Secure all on-premises and cloud applications with Duo MFA. Duo partners with major technology vendors to easily extend security controls to any application or service including Microsoft Office 365, Cisco Secure Client (including AnyConnect), Amazon Web Services, Workday and more.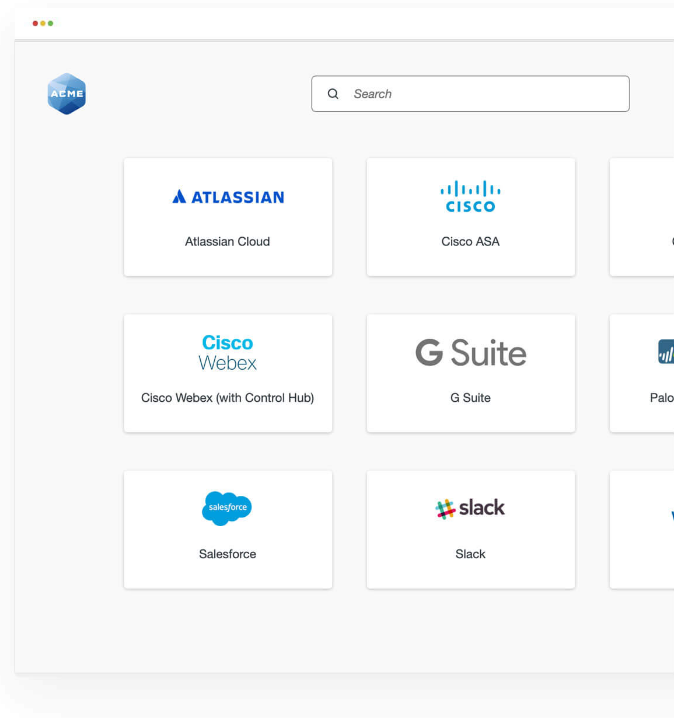 ---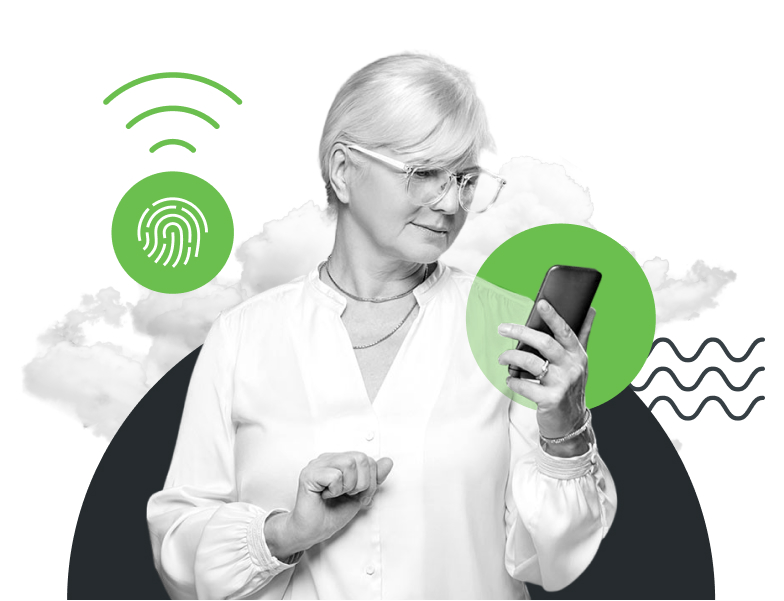 Reduce Reliance on Passwords
Passwordless authentication provides secure access for every enterprise use case -- hybrid, cloud, on-premises, and legacy applications. Duo is innovating toward a true passwordless future that balances usability with stronger authentication. Discover Passwordless
Comprehensive Cloud Support
For stress-free cloud migrations and to easily integrate with your cloud applications, Duo MFA offers native support for SAML-enabled cloud applications so you can get granular security policies immediately.
Verify End User Identities
Duo Help Desk Push enables admins and help desk staff to verify end user identities with Duo Push. Before making changes at the request of an end user, Duo Help Desk Push helps you validate that the user is who they say they are.
---