Faronics Deep Freeze

Patented Reboot to Restore Technology

Sorry, this product is no longer available, please contact us for a replacement.
Overview:
Reduce IT Costs and Increase Productivity
Faronics Deep Freeze makes your computer indestructible. Deep Freeze provides the ultimate workstation protection by preserving your desired computer configuration and settings. Each time you restart your computer, Deep Freeze restores the computer back to your configuration. Since 1999 it has helped thousands of IT professionals manage millions of computers with minimal effort.
Available for:
Reduce IT Tickets by 63%
Deep Freeze ensures 100% workstation recovery with every restart. Customers report an average reduction of 63% in IT tickets.
Completely Non-Restrictive
Provide users with unrestricted access while preventing permanent configuration changes.
Prevent Configuration Drift
Prevent computers from straying from their baseline configurations while still allowing users to save their work.
Eliminate Zero-day Threats
Deep Freeze provides a simple and effective way to clear all malicious changes to your system, including zero-day threats.
Achieve License Compliance
Deep Freeze removes all software installed without your authorization with a single reboot, helping your organization achieve license compliance.
Empower End Users
Minimize reliance on IT staff for trivial issues, allowing them to focus on more important tasks.
How Deep Freeze Works
Deep Freeze uses patented technology to redirect information being written to the hard drive to an allocation table, leaving the original data intact. The redirected information on the allocation table is no longer referenced once the computer is restarted, thereby restoring the computer to its original state, down to the last byte.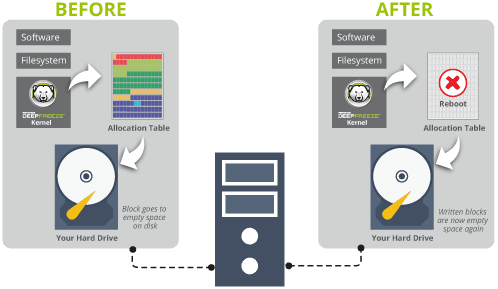 ---
Central Management

Enterprise Console makes it easy to deploy, configure, and manage Deep Freeze computers across the network. Also create a customized console with tailored features.
Maintenance Tasks

Schedule different maintenance windows to perform automatic updates using a batch file or third party management solutions.
Auto Windows Update

Automatically download Windows updates even when computers are Frozen. Schedule a maintenance window to perform automatic updates and return to a Frozen state.
---
ThawSpace

Create virtual partitions to retain important data even if there is no separate physical partition available on the computer.
MBR Protection

Get enhanced security with protection for the Master Boot Record from rootkit injections and other alterations, making your security bulletproof.
Remote Launch

Launch existing applications on selected computers from the console or even push the executable and launch it remotely.
---
Lock Keyboard & Mouse

Remotely lock keyboard and mouse to perform maintenance or to prevent any unauthorized changes. Also notify users by remotely sending a message.
Power Management

Perform Restart, Shutdown, Wake-On-LAN actions to take place on demand or on a scheduled basis.
Integration

Use the built-in Command Line interface to manage Deep Freeze using the most popular desktop management systems such as Microsoft SCCM, Dell KACE, Apple Remote Desktop etc.
Documentation:
Download the Faronics Deep Freeze Datasheet (PDF).
Ready to Get Started? Learn more about Faronics at