Cisco Catalyst PON 4-port ONT

Make refreshing your passive optical network (PON) easy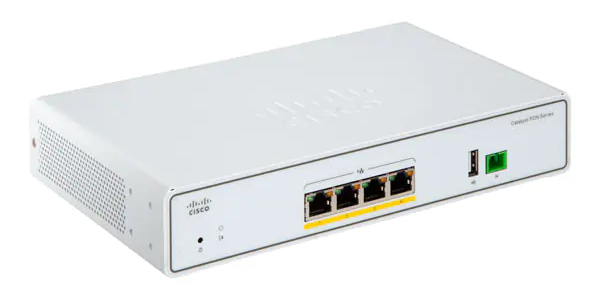 Cisco Products
Cisco Catalyst PON Series
Cisco Catalyst PON 4-port GPON ONT Switch, PoE+
#CGP-ONT-4P
List Price:
$484.56
Our Price: $325.77
More pricing below, click here!
Cisco Catalyst PON Series Switches:
With enterprise-grade features such as power and uplink redundancy, Power over Ethernet (PoE+) and simple, low-cost operations, the Cisco Catalyst PON Series gives you what you need today, in a simple, safe, and cost-effective GPON solution.
Extend intent-based networking everywhere
Cisco Catalyst PON Series switches extend the power of intent-based networking. With its family pedigree, Catalyst PON Series switches offer Competitive network solution – it is high performance, simple structure, and easy maintenance.
As foundational building blocks for the Cisco Digital Network Architecture, Catalyst PON Series switches help customers simplify complexity, optimize IT, and reduce operational costs by leveraging intelligence, automation and human expertise. It provides security features that protect the integrity of the hardware as well as the software and all data that flows through the device, giving you what you need now with investment protection on future innovations.
With GPON feature support, bandwidth up to 108 Gbps, double uplink module, power redundancy, ONT PoE+ capability and high aggregation capacity, Catalyst PON Series switches are the industry's All-Optical solution with differentiated resiliency and progressive architecture for cost-effective optical network access.
CGP-OLT products are compact and high-density network aggregation devices, meeting the requirements of ITU-T G.984 and relative GPON standards, with high access capacity, carrier-class reliability and powerful security function.
CGP-ONT products provide access for comprehensive services, including High-Speed Internet, Video, VoIP, CCTV and CATV to the subscribers in FTTx application with powerful interoperability and stability.
All services over one optical network
Compact and high-density for various scenarios
1RU for easy and quick installation
Easy management and maintenance
Up to 16 ports of GPON access capability
Redundant power supply and uplinks
Flexible downlink options with data, video, voice, CATV, PoE+, Wi-Fi
Integrated CPU offers customers optimized scale with better cost structure
Template-based configurable allocation of Layer 2 forwarding, Access Control Lists (ACLs), and Quality of Service (QoS) entries

Lower TCO
Fewer cables and lower power consumption

Efficient and scalable structure
Variable splitting ratios that scale as needed while reducing bottlenecks

Enhanced privacy and security
Higher security and privacy at the physical level, data level, and end-user port

Simple network management
Centralized configuration and monitoring of end-to-end devices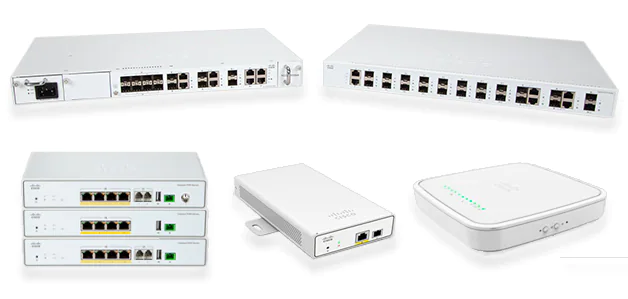 ---
Pricing Notes:
Pricing and product availability subject to change without notice.
Cisco Products
Cisco Catalyst PON Series
Cisco Catalyst PON 4-port GPON ONT Switch, PoE+
#CGP-ONT-4P
List Price:
$484.56
Our Price: $325.77