Cisco Small Business 500 Series Wireless Access Points

High-Performance, Easy-to-Deploy, Secure Business-Class Wireless-N Connectivity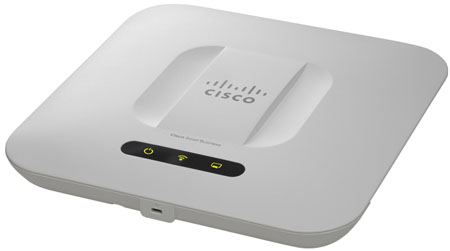 Sorry, this product is no longer available, replaced by the WAP571-A-K9.
Overview:
Provides cost-effective selectable or concurrent dual-radio Wireless-N connectivity for high capacity and additional users
Gigabit Ethernet LAN interfaces with PoE enable flexible installation
SmartSignal Antenna technology optimizes wireless coverage and reception
Captive portal enables highly secure guest access with customized roles and rights
Single Point Setup requires no controller, for easy cost-effective deployment of multiple access points
Works right out of the box with easy installation and simple web-based configuration and wizard
In today's dynamic business environment, employees are becoming more mobile and collaborative than ever. To stay productive, they need dependable, business-class access to network applications throughout the office. The Cisco Small Business 500 Series Wireless Access Points provide a simple, cost-effective way to extend secure, high-performance mobile networking to your employees and guests, so they can stay connected anywhere in the office. This flexible solution lets you connect dozens of employees, and can scale to accommodate additional users and changing business needs.
The Cisco 500 Series access points use selectable or concurrent dual-band radios for improved coverage and user capacity. Gigabit Ethernet LAN interfaces with Power over Ethernet (PoE) support flexible installation and reduce cabling and wiring costs. Intelligent quality-of-service (QoS) features let you prioritize bandwidth-sensitive traffic for voice over IP (VoIP) and video applications. SmartSignal Antenna technology enables you to extend the reach of your wireless network by optimizing coverage, reception, and performance.
To provide secure guest access to visitors and other users, the Cisco 500 Series access points support a captive portal with multiple authentication options and the ability to configure rights, roles, and bandwidth. A customized guest login page lets you present a welcome message and access details, and reinforces your brand with company logos.
The Cisco 500 Series access points are easy to set up and use, with intuitive wizard-based configuration to get you up and running in minutes. An attractive design with flexible mounting options enables the access points to smoothly blend into any small business environment.
To enhance reliability and safeguard sensitive business information, the Cisco 500 Series access points support both Wi-Fi Protected Access (WPA) Personal and Enterprise, encoding all your wireless transmissions with powerful encryption. In addition, 802.1X RADIUS authentication helps keep unauthorized users out.
Designed to scale smoothly as your organization grows, the access points feature controllerless Single Point Setup that simplifies the deployment of multiple access points without additional hardware. With the Cisco 500 Series access points, you can extend business-class wireless networking to employees and guests anywhere in the office, with the flexibility to meet new business needs for years to come.
Figure 1 shows a typical Wireless Access Point configuration.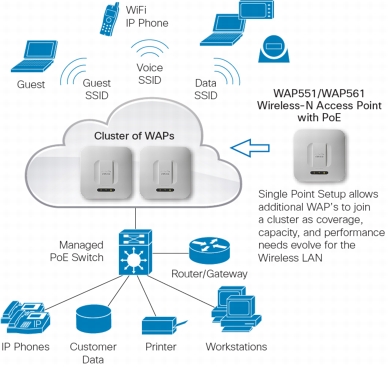 Figure 1. Typical Configuration
Get High-Performance, Highly Secure Connectivity
Your small business can deliver business-class, high-capacity WLAN and guest access services that are highly secure and reliable--without a controller. Easy-to-deploy Cisco Small Business 500 Series Wireless Access Points offer 802.11n wireless connectivity with a dual concurrent radio or a selectable single radio.
Features and Benefits:
Selectable or concurrent dual-band radios support up to 450 Mbps per radio to maximize capacity and coverage.
Single Point Setup, a controllerless technology, simplifies the deployment and management of multiple access points - without requiring additional hardware.
The Gigabit Ethernet LAN interface enables a high-speed uplink to the wired network.
Robust security, including WPA2, 802.1X with RADIUS secure authentication, and rogue access point detection, helps protect sensitive business information.
Captive portal support enables highly secure, customized guest access with multiple rights and roles.
SmartSignal Antenna increases the wireless coverage area by automatically optimizing the antenna pattern.
Simple installation and intuitive web-based configuration and wizard enable fast, simple deployment and setup in minutes.
Support for PoE enables easy installation without expensive additional wiring.
Sleek design with 5 internal antennas on the WAP551 and 10 antennas on the WAP561, with a versatile mounting kit that enables installation on a ceiling or wall.
Intelligent QoS prioritizes network traffic to help keep critical network applications running at top performance.
Power-saving sleep mode and port control features help maximize energy efficiency.
Workgroup Bridge mode lets you expand your network by wirelessly connecting to a second Ethernet network.
Support for IPv6 lets you deploy future networking applications and operating systems without costly upgrades.
Limited lifetime hardware warranty provides peace of mind.
Get exceptional performance and coverage for mobile devices and bandwidth-heavy applications. Use the simple, controller-less management of Cisco Small Business 500 Series Wireless Access Points and get:
High Performance and Wide Coverage
Get selectable or concurrent dual-band radio support of up to 450 Mbps per radio with optimized SmartSignal Antenna technology.
Simple Installation and Deployment
Easily install and deploy these access points with an intuitive web-based configuration and integrated setup wizard.
Scalability
Easily expand your wireless coverage with controller-less technology, without the need for additional hardware.
Enhanced Mobile Guest Experiences
Provide highly secure guest access with a customized login page for better user experiences.
Strong Security
Use advance encryption and security protocols to help keep your wireless network as secure as your wired network.
Limited Lifetime Hardware Warranty
Get protection for your investment.
Technical Specifications:
| | |
| --- | --- |
| Front View | Rear View |
Product Specifications for the Cisco 500 Wireless Series
Specifications
Description
Standards
IEEE 802.11n, 802.11g, 802.11b, 802.3af, 802.3u, 802.1X (security authentication), 802.1Q (VLAN), 802.1D (Spanning Tree), 802.11i (WPA2 security), 802.11e (wireless QoS), IPv4 (RFC 791), IPv6 (RFC 2460)
Ports

LAN Gigabit Ethernet auto sensing

Cabling type

Category 5e or better

Antennas

Internal antennas optimized for installation on a wall or ceiling

LED indicators

Power, WLAN, LAN

Operating system

Linux

Physical Interfaces
Ports

10/100/1000 Ethernet, with support for 802.3af PoE

Buttons
Reset button
Lock slot
Slot for Kensington lock
LED
Power, Wireless, Ethernet
Physical dimensions (W x D x H)
9.05 x 9.05 x .98 in. (230 x 230 x 25 mm)
Weight
WAP561: 1.51 lb or 685 g; WAP551: 1.41 lb or 640g
Network Capabilities
VLAN support
Yes
Number of VLANs
1 management VLAN plus 16 VLANs for SSIDs
802.1X supplicant
Yes
SSID to VLAN mapping
Yes
Auto channel selection
Yes
Spanning tree
Yes
Load balancing
Yes
IPv6

Yes

IPv6 host support
IPv6 RADIUS, syslog, Network Time Protocol (NTP), etc.

Layer 2
802.1Q-based VLANS, 4 active VLANS plus 1 management VLAN
Security
WPA/WPA2/WEP
Yes, including Enterprise authentication
Access control
Yes, management access control list (ACL) plus MAC ACL
Secure management
HTTPS
Wi-Fi Protected Setup (WPS)
Yes (soft WPS, no hardware push button)
SSID broadcast
Yes
Rogue access point detection
Yes
Mounting and Physical Security
Multiple mounting options
Mounting bracket included for easy ceiling or wall mounting
Physical security lock
Kensington lock slot
Quality of Service
Quality of service (QoS)
Wi-Fi Multimedia and Traffic Specification (WMM TSPEC)
Performance
Wireless throughput
Up to 450 Mbps data rate (real-world throughput will vary)
Recommended user support
Up to 64 connective users, 30 active users per radio
Multiple-Access Point Management
Single Point Setup
Yes
Number of access points per cluster
16
Active clients per cluster
480
Configuration
Web user interface
Built-in web user interface for easy browser-based configuration (HTTP/HTTPS)
Management
Management protocols
Web browser, Simple Network Management Protocol (SNMP) v3, Bonjour
Remote management
Yes
Event logging
Local, remote syslog, email alerts
Network diagnostics
Logging and packet capture
Web firmware upgrade
Firmware upgradable through web browser, imported/exported configuration file
Dynamic Host Configuration Protocol (DHCP)
DHCP client
IPv6 host
Yes
HTTP redirect
Yes
Wireless
Frequency
WAP551: Selectable radio band (2.4 or 5 GHz)
WAP561: Dual concurrent radios (2.4 and 5 GHz)
Radio and modulation type
Single radio (WAP551) or dual radio (WAP561), orthogonal frequency division multiplexing (OFDM)
WLAN
802.11b/g/n
3x3 multiple-input multiple-output (MIMO) with 3 spatial streams
20 and 40 MHz channels
PHY data rate up to 450 Mbps
802.11 dynamic frequency selection (DSF), EU version only
Data rates supported
802.11a/b/g:

54, 48, 36, 24, 18, 12, 9, 6, 11, 5.5, 2, and 1 Mbps
802.11n:

20-MHz bandwidth: MCS 0-15 for supported data rates
40-MHz bandwidth: MCS 0-15 for supported data rates

Frequency band and operating channels (2.4 GHz band)
802.11b
2412
2437
2462
802.11g
2412
2437
2462
802.11n 20 MHz (2.4 GHz band)
2412
2437
2462
802.11n 40 MHz (2.4 GHz band)
2422
2437
2452
Frequency band and operating channels (5 GHz band)
802.11a
5180
5320
5500
5700
802.11n 20 MHz (5 GHz band)
5180
5320
5500
5700
5825
802.11n 40 MHz (5 GHz band)
5190
5510
5795
Nonoverlapping channels
2.4 GHz
• 802.11b/g
• 20 MHz: 3
• 802.11n
• 20 MHz: 3
5 GHz
• 802.11a
• 20 MHz: 24
• 802.11n
• 20 MHz: 24
• 40 MHz: 11
Wireless isolation
Wireless isolation between clients
External antennas
None
Internal antennas
5 internal dipole antennas for the WAP551 and 10 antennas for the WAP561
Antenna gain in dBi
5 dBi each antenna
Receiver sensitivity
2.4 GHz
• 802.11b/g
• 1 Mbps: -91 dBm
• 11 Mbps: -85 dBm
• 6 Mbps: -86 dBm
• 54 Mbps: -69 dBm
• 802.11n/20 MHz
• MCS0: -86 dBm
• MCS7: -70 dBm
• MCS8: -85 dBm
• MCS15: -68 dBm
• 802.11n/40 MHz
• MCS0: -84 dBm
• MCS7: -66 dBm
• MCS8: -83 dBm
• MCS15: -65 dB
5 GHz
• 802.11a
• 6 Mbps: -82 dBm
• 54 Mbps: -67 dBm
• 802.11n/20 MHz
• MCS0: -83 dBm
• MCS7: -68 dBm
• MCS8: -82 dBm
• MCS15: -66 dBm
• 802.11n/40 MHz
• MCS0: -82 dBm
• MCS7: -64 dBm
• MCS8: -81 dBm
• MCS15: -62 dBm
Wireless distribution system (WDS)
Yes
Fast roaming
Yes
Multiple SSIDs
WAP551: 16
WAP561: 16 x 2
Wireless VLAN map
Yes
WLAN security
Yes
Wi-Fi Multimedia (WMM)
Yes, with unscheduled automatic power save
Operating Modes
Access point
Access Point mode, WDS Bridging, Workgroup Bridge mode
Environmental
Power options
IEEE 802.3af Ethernet switch
Cisco SB-PWR-INJ-xx
POE power:
Peak power:
• WAP551: 7.872W
• WAP561: 1.712W
Compliance
Safety:
• UL 60950-1
• CAN/CSA-C22.2 No. 60950-1
• IEC 60950-1
• EN 60950-1
Radio approvals:
• FCC Part 15.247, 15.407
• RSS-210 (Canada)
• EN 300.328, EN 301.893 (Europe)
• AS/NZS 4268.2003 (Australia and New Zealand)
EMI and susceptibility (Class B):
• FCC Part 15.107 and 15.109
• ICES-003 (Canada)
• EN 301.489-1 and -17 (Europe)
Operating temperature
0° to 40°C (32° to 104°F)
Storage temperature
-20° to 70°C (-4° to 158°F)
Operating humidity
10% to 85% noncondensing
Storage humidity
5% to 90% noncondensing
System memory
64 MB RAM
32 MB flash
Others
Package Contents

Cisco WAP551 or WAP561 Wireless-N access point
Ceiling/wall mounting kit
User guide on CD-ROM
Quick-start guide
Ethernet network cable

Minimum Requirements

802.11b, 802.11g, 802.11n wireless adapter with TCP/IP protocol installed per PC
Switch/router with PoE support or PoE injector
Web-based configuration: Java-enabled web browser

Warranty

Access point: Limited lifetime
Power supply: 1 year warranty